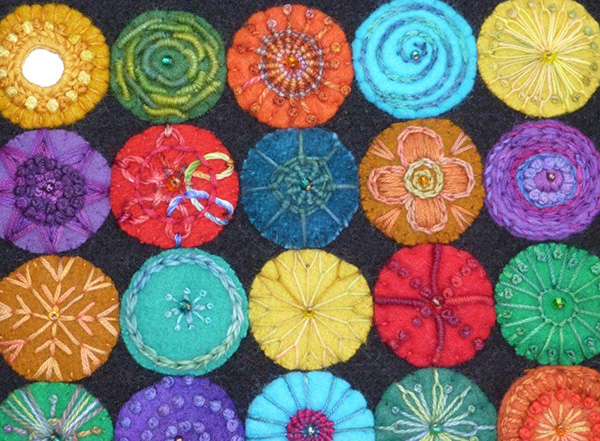 Sorry this class is Sold Out
Explore a few embroidery stitches with Sarah Hooker. Using bright primary colours or soft smoky pastels, start a felt and embroidery project that could become a bag, cushion or wall panel.
Learn many stitch combinations including bullions, French knots, shisha stitch, detached chains, couching, woven webs and spider wheels.
---
What to Bring
You will need the following materials for the DOTS workshop. Note, you can purchase all of these from Nancy's (www.nancys.co.nz) – please visit or call Nancy's in advance of your workshop to arrange a materials kit for you.
FABRIC FOR BACKGROUND
Approx 45cm square of fabric for background. Adjust this size if needed for smaller or larger projects. A couple of samples use felt and another is worked on embroidery linen. If using linen add lightweight iron on vilene to the back. Avoid shiny, stretch or slippery fabrics.
FELT FOR DOTS
A selection of small felt (wool or acrylic) pieces for dots – use as few or as many colours as you like.
THREADS
Stranded cotton or similar. Bring your thread collection to class or choose a new range for your project. If choosing a fresh range start with a variegated thread (with at least three colours in it) and use the tones in the thread to collect a range of colours. Alternatively use the colours in your felt as a guide. There is no right or wrong colour selection – use your instincts and choose a range of colours you love. The Nancy's staff are always happy to help.
NEEDLES
John James Crewel – No 1 or similar (Sharp point and generous eye)
Chenille – Mixed 24/26 or similar
ACCESSORIES
Embroidery hoop – no bigger than 15cm (optional)
Sharp fabric scissors
Pins
Fabric marker or pencil that shows on felt.
Plastic circle template set if you have one. (I haven't been able to source these recently so don't spend ages looking. Template options will be available at class)
---
Book Now